Taking Flight: Odessa sophomores take part in Student Spaceflight Experiments Program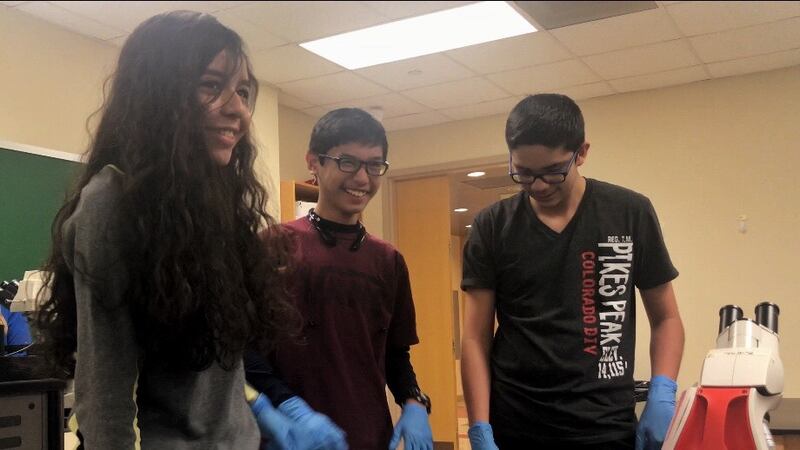 Published: Jan. 29, 2018 at 6:01 PM CST
"It's amazing, especially with an organization like NASA, it's just an amazing experience," said Deidre Morales, a 10th grader at Falcon Early College High School.
Moralles and her classmates are taking part in the Student Spaceflight Experiments Program.
Ector County ISD posted this on their website about the program:
"The Student Spaceflight Experiments Program [or SSEP] is a program of the National Center for Earth and Space Science Education (NCESSE) in the U.S. and the Arthur C. Clarke Institute for Space Education internationally. It is enabled through a strategic partnership with DreamUp PBC and NanoRacks LLC, which are working with NASA under a Space Act Agreement as part of the utilization of the International Space Station as a National Laboratory."
"The more I got to work with it, the more I want to learn about it," Morales explained.
The teachers are noticing their passion.
"It's mind-blowing, it truly is. Seeing their passion behind it revamped why I'm a teacher, why I wanted to do this and be in pick education. They are my inspiration," said AVID coordinator & Teacher, Elizabeth Gray.
Morales came up with the proposal. she's teaming up with Juan Mendoza and Francis Dapanas. Three of the 13 students in the program at Falcon Early College High School.
The team will be heading to Washington, D.C. this summer for the annual SSEP national conference.
That's where hands-on learning is turning into a path for success.
"I'm really looking forward to it," expressed Morales. "We're going to be able to meet with scientists and other kids who have the same mindset, the same thirst for curiosity and the same passion for science - it's great."
"The advances in space, and hopefully I can be a part of that," added Mendoza.
Ector County ISD is just one of 31 communities from the U.S., Canada and Brazil to be accepted into America's Space Program.
"Just doing the experiment itself. Getting to work with the bacteria now - we've been waiting for months for it to get here. Now that we finally get to work with it, it's great," Morales said.
For these sophomores, this is an experience of a lifetime.
"Exploring how our world works and it really means a lot to us because we can take these ideas and take them over to the convention in Washington, and present them," Dapanas explained. "We can further improve humanities development; figure out pollution on earth and how we can decompose it and how we can get rid of all this."
"You can do anything you set your mind to. It's cliché, but it's true," Mendoza concluded.
The students tell me they can't wait to learn more about the bacteria and working in the lab.
Plus, they're ready to take flight for their trip to D.C. this summer.