UPDATED: Gas Plant Explosion Outside Orla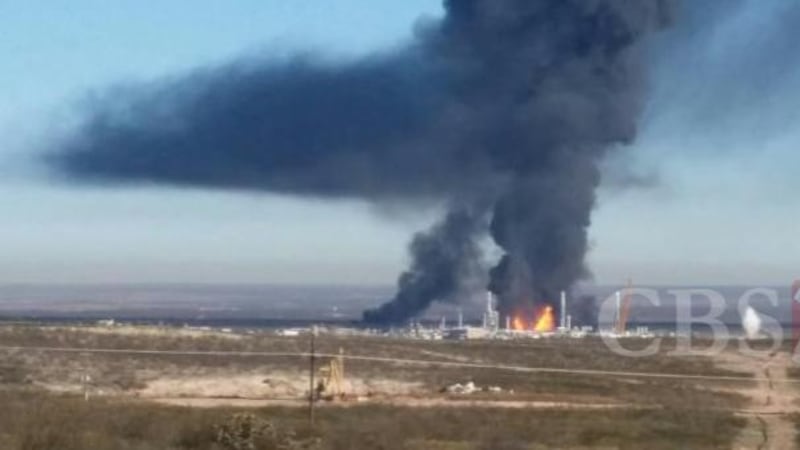 Published: Dec. 3, 2015 at 10:56 AM CST
UPDATE 2:01 PM:
Emergency Response crews on scene report the fire is completely out at the natural gas plant north of Orla. The all clear was just given.
Workers await transport with school buses from New Mexico.
Traffic will soon begin flowing normally, according to the Reeves County Sheriff's Office.
UPDATE 1:00 PM:
Anadarko officials release a statement after the natural gas processing plant explosion.
Spokepserson John Christiansen said a fire broke out at the Ramsey Natural Gas Processing Plant near Orla at 10:00 a.m. Friday.
Christiansen confirms all lines going into and out of the plant have been isolated and the fire is contained to one area of the plant.
Christiansen said 200 people were on site at the Ramsey Plant at the time who were all accounted for, with two minor injuries reported.
The Ramsey Plant is owned by Western Gas Partners, LP and is operated by Anadarko.
UPDATE 11:41 AM:
Eyewitness recounts what he felt leading up to explosion.
"I heard it and I felt it," said Sergio Mendoza, who was working nearby. "I felt a huge wall of fire. It was pretty loud."
Mendoza said the area for miles around the explosion was evacuated.
"There was a minor explosion and fire right before the big one," he said.
UPDATE 11:16 AM
Chief Deputy Campos says so far only two non-life-threatening injuries are reported. Campos said there were 300 people working at the site at the time of explosion.
"It's a major explosion," Campos said. "It's amazing there were not more injuries."
According to Reeves County Chief Deputy Israel Campos, units are headed to a gas plant explosion at a site about eight miles north of Orla just near the state line.
Campos said it is owned by Anadarko where they were building an addition to the site.
There are no reported injuries at this time, however emergency services are in route.
Eyewitnesses as far away as Carlsbad report feeling the explosion.