First responders honor fallen Midland police officer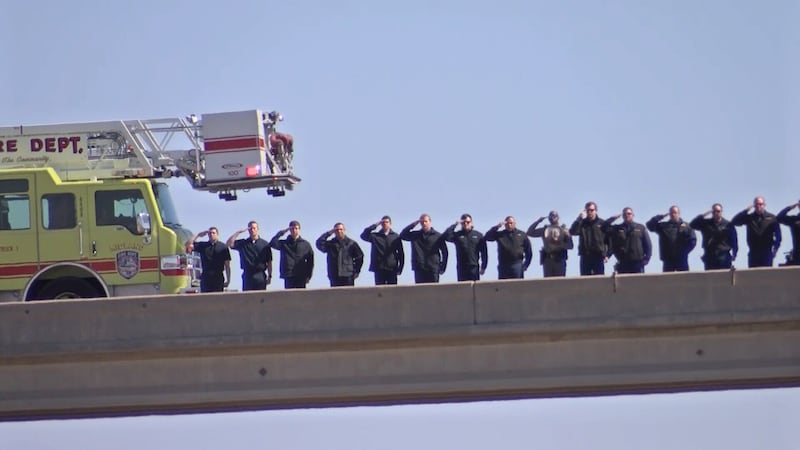 Published: Mar. 5, 2019 at 10:52 PM CST
While a police caravan escorted the body of Midland Police Officer Nathan Heidelberg to Tarrant County for an autopsy, first responders paid their respects along the way.
West Texas first responders stood at attention along the way showing the fallen officer respect and admiration for serving his community bravely to the very end.
"Anytime we have a line of duty death whether it be fire police EMS it tears our hearts," Sweetwater Fire Lieutenant Eric Reed said.
Sweetwater Fire Department lieutenant Eric Reed and a dozen of his firefighters were one of the many first responders who woke up to the terrible news about Heidelberg's death.
He says he didn't hesitate to answer the call because the Midland Police Department has always been there when Sweetwater firefighters have been hurt or killed in the past.
"The Fire and EMS and police officers in that area have shown great love and respect for us and bent over backwards to help and it's a great opportunity for us to show our love and appreciation to them as well," Reed said. "That we are here for them as they are there for their community."
He said being present for the caravan escort matters because it's a deep sign of respect and shows how the first responder community sees itself as a brotherhood always there to support one another.
"That's our extended family. And for it to be in West Texas, it's even closer to home makes it even worse."
Reed said there have been too many tragic incidents like this as long as he's been serving the fire department.
Yet another loss today is a sting to his community and serves as another reminder of how dangerous it is to answer the call of duty.
"Every day when we come into work and do the kind of jobs we do we run that risk on every call. We never know what's going to happen."