City leaders take sledge hammers to Midland Center's walls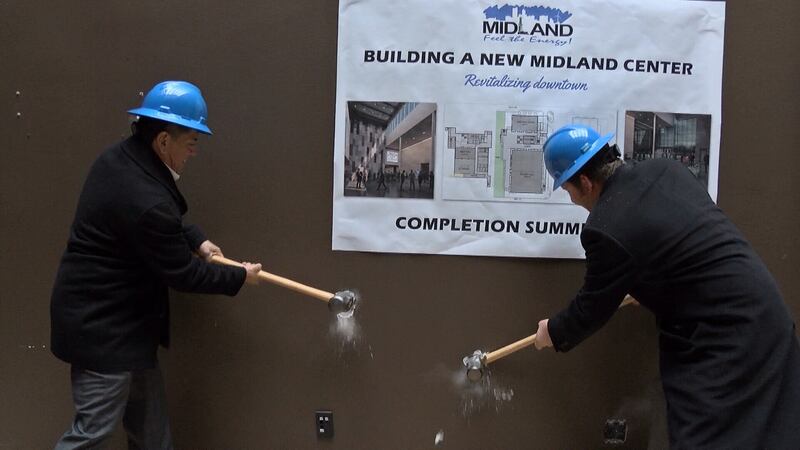 Published: Feb. 13, 2017 at 11:08 PM CST
After years of planning, demolition on the Midland Center and Chamber of Commerce began Monday.
It's all to make room for a brand new state of the art convention center.
CBS 7 News was there for the ceremony and learned what the $42-million facility will bring to the downtown area.
In its 35 years of existence, there's been a lot of history and countless memories made at the Midland Center.
Take for instance the time George W. Bush gave his last speech inside the Centennial Plaza before being sworn in as the 43rd president.
With the new and improved convention center, city leaders are eager to make even more unforgettable memories.
Sledge hammers in hand, city leaders said their final goodbyes to a center that's been a staple within the community.
"Even though there was a lot of events and stories shared here, I'm excited for Midland and the future, for the good things that are going to come about because of this," said Midland Mayor Jerry Morales.
Here's a taste of what the new state of the art convention center will look like once construction is completed -- glass windows, two stories high, a free parking garage and double the space.
"There will be a lot of weddings, Quinceaneras, there will be a lot of family reunions, meetings, special retreats, so you know [this is] going to bring a lot of joy to a lot of people, not only for Midland, but the Permian Basin," Morales said with a big smile.
Although it may be hard to see the city's vision with debris scattered everywhere, their promise to the community is to create a better downtown at no cost to the tax payer.
"My vision is to have live music in the plaza two or three times a week to really create a vibrant downtown," said Brad Barnett, the Executive Vice President of Tourism & Facilities for the Midland Chamber of Commerce.
The demolition process will last about four months, and if all goes according to plan, the new Midland Convention Center will be up and running by summer 2019.