Midland Soup Kitchen and Curb Side Bistro offer Thanksgiving meal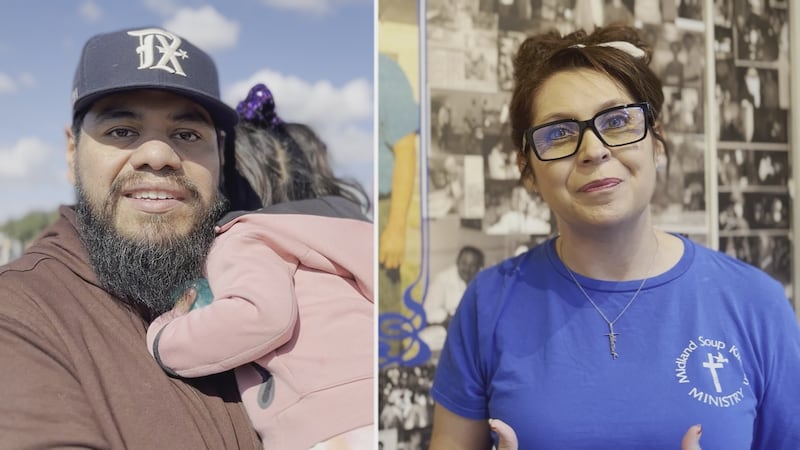 Published: Nov. 20, 2023 at 4:44 PM CST
MIDLAND & ODESSA, Texas (KOSA) - The holidays can be hard for some people since they may not have a loved one to spend time with or a place to get a good Thanksgiving meal.
But for the last 37 years, Midland Soup Kitchen has been making sure that doesn't become an issue.
"We do a homemade meal so that way people can have their own experience if they don't have a home to feel welcomed," said Nancy Ivy, Exec Director of Midland Soup Kitchen
On any given day The Midland Soup Kitchen can feed between 130 to 150 people but on Thanksgiving day there are a few more people.
"It's gonna be interesting this year because our numbers have gone up from 130-150 people daily. So last year we fed about 800 people and I expect that number to go at least 100 more at least. The Lord always provides the meal, the lord always multiplies the meal and everyone goes out of here with a full belly" said Ivy
And with having an event go on for 37 years memories are bound to be made.
"It's like I'm coming back to see the Rendon family and the Ivy family, I'm coming back to see and eat papa's dressing. So they all meet here. Especially since I have people telling me they're coming out of town and we gotta go back to the soup kitchen and say hi to Miss Nancy" said Ivy
But Midland Soup Kitchen isn't the only place having food available.
Just like Midland Soup Kitchen has a place that carries a tradition, Curb Side Bistro is making sure you also have a place to eat on Thursday.
"To see it grow and evolve and start to become people's tradition it's just a beautiful thing," said Alejandro Barrientos, Co-Owner and Head Chef of Curb Side Bistro
Curb Side Bistro will be serving its Thanksgiving meal at both locations this year and wants to make sure nobody is left hungry.
"And not everybody from the household has to be here. So I know sometimes they have family members at home who they're gonna drop off or drop off a plate to someone. Just send someone and ask for as many plates as you need" said Barrientos
If you would like a plate from either place, Midland Soup Kitchen is hosting their event on Wednesday and Curb Side Bistro is hosting it at their Odessa and Midland locations on Thursday both starting at 11.
Copyright 2023 KOSA. All rights reserved.