G.O.A.T. of the Week: Logan Krogh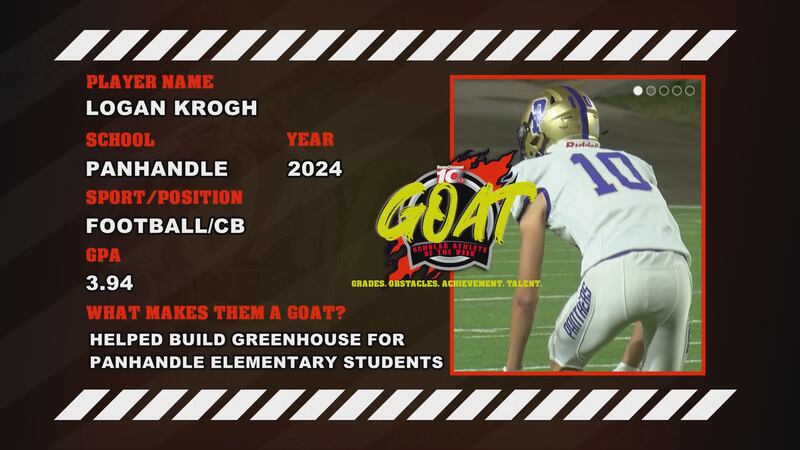 Published: Nov. 14, 2023 at 10:45 AM CST
AMARILLO, Texas (KFDA) - With only one loss on the record over the course of the regular season, the Panhandle Panthers have posted one of the football team's most successful seasons in program history.
Panthers head coach Dane Ashley points to Logan Krogh as a shining example of the type of student athlete that exemplifies success on and off the field.
"He jumped into a secondary that didn't have a lot of experience and brought some stability." Coach Ashley said. "He's a guy that we can count on, he's a guy that's gonna do exactly what he's supposed to do when he's supposed to do it. He's the type of kid that's gonna give you everything he has all the time."
That opportunity Krogh was given to make an impact has paid of big time for Panhandle.
He's turned into one of the leaders of a Panthers defense that posted two big shutouts in district action.
"I didn't play a whole lot junior year. Had some big shoes to fill." Krogh said. "It's just a big deal being part of a program like this where everyone shows up to workouts in the summer, no one really skips. It's a big deal."
Krogh has also done his part to help the Panhandle community. The senior used his eagle scout project to give the kids of Panhandle the opportunity for a hands-on learning experience.
"I actually did a greenhouse over at the elementary school." Krogh said. "We took down a greenhouse out of someone's back yard and then built it up at the school for them to use for planting to teach the kids. I'm pretty excited to come back in a few years to see how it's progressed."
Acts like that from logan are no surprise to Coach Ashley, who can't say enough good things about the senior's character.
"He's selfless and that's not real common anymore. In that aspect, he's probably one of the best we've ever had."
Copyright 2023 KFDA. All rights reserved.