G.O.A.T. of the Week: Sammy Santos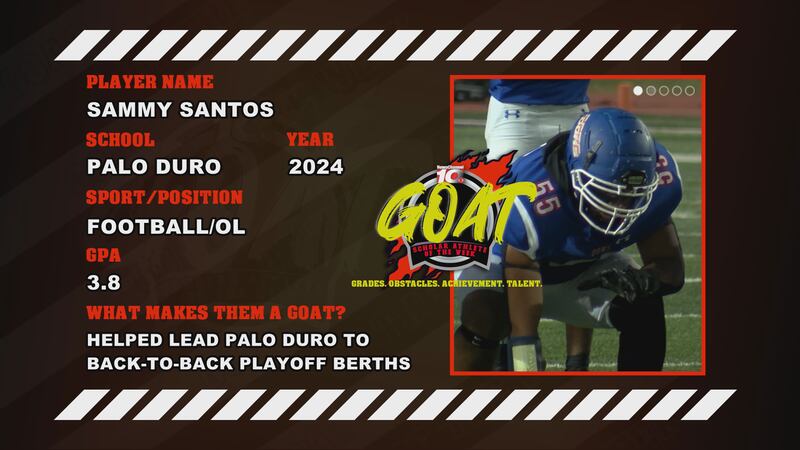 Published: Nov. 7, 2023 at 12:35 AM CST
AMARILLO, Texas (KFDA) - The Palo Duro Dons are back in the playoffs.
It's the first time in a decade they've made the postseason in back-to-back years.
For Dons head coach Eric Mims and his staff, senior offensive lineman Sammy Santos has been a player they've relied upon to help bring success back to the program.
"Sammy is a great young man." Mims said. "He's a superintendent scholar and if you don't know what that is, it means he had a 95 or above in every single class on his schedule. He's one of those young men that you just know is gonna be successful in life because of his work ethic, because of his knowledge and just because of the drive that he has."
For Santos, he takes as much pride in his school as anyone in the Panhandle, and it all comes back to being the best teammate he can be.
"My entire family came through Palo Duro... I'm honored. I bleed blue." Santos said. "I'm thankful for the opportunity that god gave me first of all and then the opportunity that these coaches give me every day to be able to pass on what I know to these young athletes and to be able to contribute to my team in a positive way."
Coach Mims has seen the impact that Santos has had on his younger teammates and how much he's helped them grow as players and as students.
"He definitely takes those young guys under his wing." Mims said of the relationship between Santos and the underclassmen. "When that first group of seniors graduated and we looked around and needed people to lead, he was a candidate who stood out, and he walked it and he talked it."
Despite his time as a don soon coming to an end, Santos will be keeping a close eye on the younger players he's served as a role model too and a shining example of a student athlete.
"We're playing as a team as opposed to playing individually and that's something that's gonna continue to grow." Santos said of the growth he's seen this year from the Dons. "By the time I'm gone, our other teammates are gonna take that on and it's gonna be great to watch."
As Santos prepares to graduate this coming spring, he's set to go down as one of the best offensive lineman and best students the team has ever had.
Copyright 2023 KFDA. All rights reserved.