Tryston Sanchez shines as Randall takes thrilling overtime battle with Hereford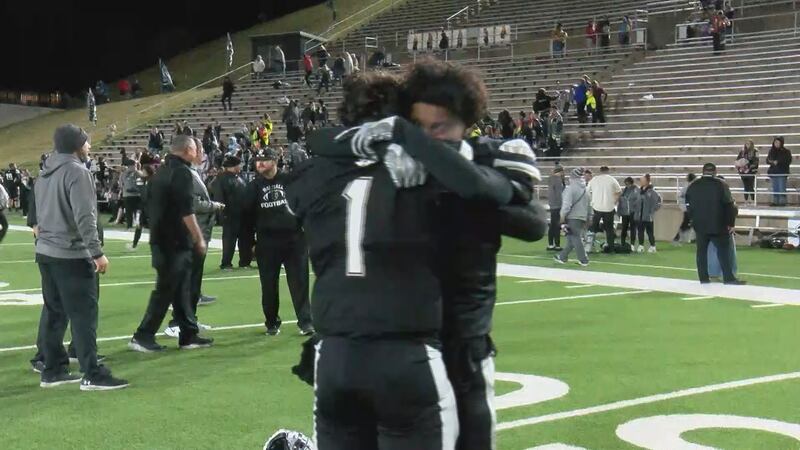 Published: Oct. 28, 2023 at 2:16 AM CDT
AMARILLO, Texas (KFDA) - The Randall Raiders took down the Hereford Whitefaces on Friday night in one of the most thrilling games of the high school football season.
The Raiders started off strong with a 10-0 halftime lead, but Hereford responded big time in the second half.
Two quick Whitefaces touchdowns put the Herd on top in the third quarter. First, Kalub Ramirez rushed in for a touchdown and then he found his tight end Tell Bryant down the seam for the touchdown to make it 14-10.
Randall quickly responded as Tryston Sanchez showed off his mobility, rushing it and powering through the Hereford defense for the score.
The Raiders added a field goal and led by six late in the fourth quarter. The Whitefaces got the ball back with under four minutes to go, with a chance to take the lead, trailing at the time 20-14.
That's when Kalub Ramirez found Nick Torres for a huge touchdown to tie things up at 20. All Hereford needed to do was make the extra point to take the lead over Randall with less than a minute to go. However, the Whitefaces failed to split the uprights and the game stayed tied at 20 and headed to overtime.
In OT, Randall got the ball first and made it count. Tryston Sanchez once again took it around the edge and went untouched into the endzone for another rushing score.
Hereford had a chance to match. As Ramirez looked towards the endzone, Raiders pass rusher Breken Melton burst through the line and managed to tip the pass, which flew slightly off course and right into the waiting hands of sophomore defensive back Tayren Combs for the game-sealing interception as Randall claimed victory 27-20 in overtime.
"The players did a phenomenal job of coming together, finishing out the regular season." Raiders head coach Dan Sherwood said after the win. "Now we get our bye week, we get to rest up, recuperate, and we get to go into the postseason. I couldn't be more proud of our kids."
For Sanchez, who had the game winning touchdown, the win was a special way to end the regular season for the team.
"We started Saturday. Right after that [Canyon] game, we were locked in." Sanchez said of the team's mindset. "We told everybody, we were playing for us... Offense did our job when we had to, but defense, that was the thing of the game."
Randall will now have an open week before the start of the postseason. Meanwhile, Hereford travels to Dumas for a matchup with the Demons. With a win, Hereford could climb back into third place in the district. If Dumas comes out on top, they would clinch a share of the district title.
Copyright 2023 KFDA. All rights reserved.