Dumas spoils Canyon Eagles outright district title hopes with victory in 45-42 shootout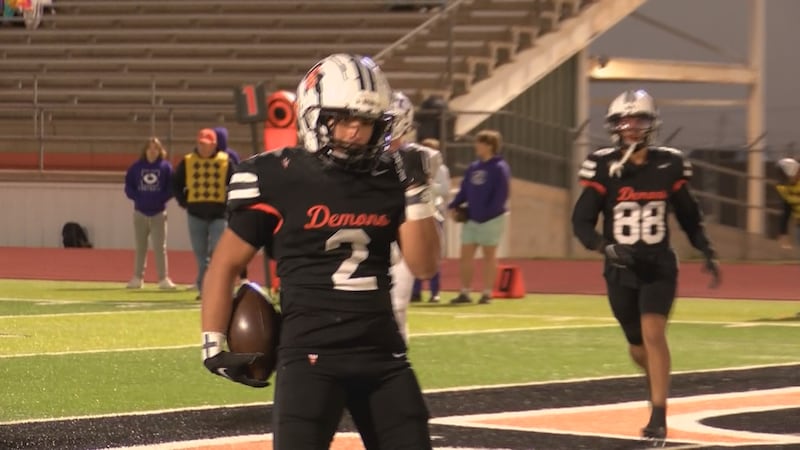 Published: Oct. 28, 2023 at 2:41 AM CDT
AMARILLO, Texas (KFDA) - The Canyon Eagles fell to the Dumas Demons on Friday night in a thrilling back-and-forth battle.
The Eagles had come in winners of five straight looking like the sure-fire outright district title favorites. However, Dumas proved to be up to the task of matching the Eagles score for score.
Every Eagles touchdown was matched by the Demons as the two sides traded blows throughout the game.
Dumas led at halftime 35-28, a high-scoring affair as neither team punted for the entirety of the first half.
However, things went Canyon's way for most of the second half, as the Eagles took a 42-35 lead into the fourth quarter. That's when Dumas faced a 4th & 12 from midfield and freshman quarterback Colton Mills found Johnny Marquez for the game-tying touchdown.
After a stop on defense, Dumas had the ball back with things all tied up late in the fourth quarter.
The Demons worked it into field goal range and were set to attempt a 39-yard field goal to beat Canyon after missing two field goals earlier in the game.
What appeared to be a blocked field goal that would have sent the game to overtime was waved off. Officials ruled that a timeout was called on the field by Canyon and the Demons would re-kick. On that next attempt, the ball split the uprights and Dumas walked away with a stunning victory.
With the win, Dumas and Canyon are now tied at 2-1 in the district while Randall currently sits at 3-1 heading into the open week. It's possible that Canyon, Dumas, and Randall could each take home a share of the district title if Dumas and Canyon both win next week.
Copyright 2023 KFDA. All rights reserved.