Canadian honors legendary coach Chris Koetting with field dedication ceremony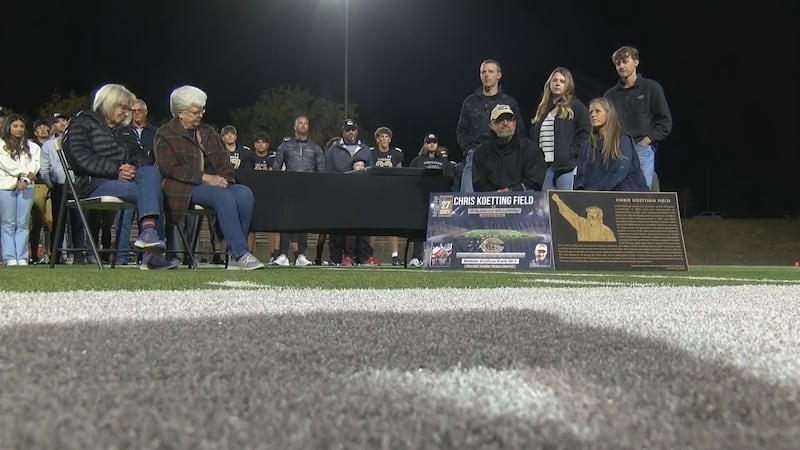 Published: Oct. 28, 2023 at 2:13 AM CDT
AMARILLO, Texas (KFDA) - The Canadian Wildcats honored former head coach Chris Koetting at halftime of Friday night's win over Tulia.
The school made it official that the football field will now be named 'Chris Koetting Field' to celebrate his amazing tenure.
Koetting was part of three state championship winning teams while at the helm for the Wildcats. He spent a total of 13 years as the team's head coach before retiring last spring.
"Through my coaching career, I just wanted to make a difference on kids and coaches. I hope maybe I did a little bit of that." Koetting said after the ceremony. "This community that we have, it's unbelievable. Since the first day I walked into Canadian, I've been treated so well by everybody. It's a special place and it's my home. It's just been the best thing that ever happened to me."
In addition to the signage that will be displayed at the field, the school also has plans to display Koetting's name on the turf in the years to come once the current turf is replaced.
"He means success, but so much more than that." Former Canadian superintendent Kyle Lynch, who hired Koetting as head coach, said. "The cool thing about it is what you just saw. That humility. That humility, that's what endeared him to his players, to his coaches, to rival coaches, to the press. That's what everybody loved about him and that's what we're so thankful for. That commitment to developing character in young men and women, you don't get any better than this right here."
The Wildcats dominated in the game against Tulia with a 72-0 blowout win in route to clinching at least a share of another district title.
Copyright 2023 KFDA. All rights reserved.