Tascosa posts season-high 63 points in win over Caprock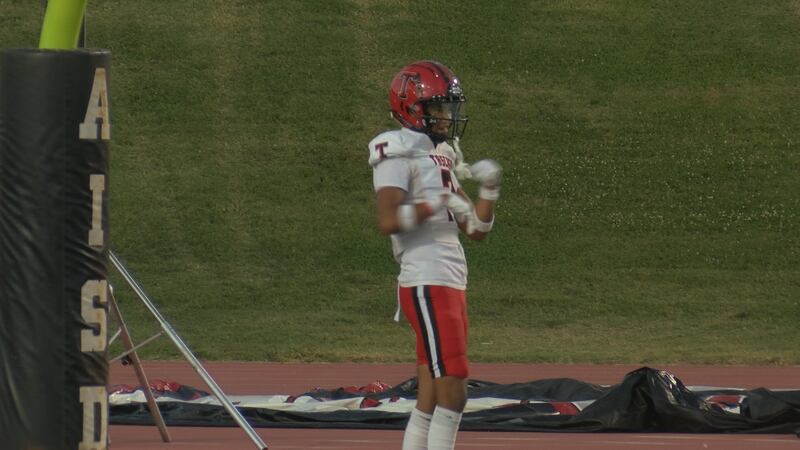 Published: Oct. 21, 2023 at 1:32 AM CDT
AMARILLO, Texas (KFDA) - The Tascosa Rebels took down the Caprock Longhorns on Friday night.
It was a season-high in the scoring column for the Rebels offense in route to a 63-24 win over their crosstown rivals.
Tascosa got the scoring started early on their first play from scrimmage as Coltyn Fulton found Josh Cardona wide open down field for a 70-yard touchdown.
Coltyn Fulton added to the lead on the next Tascosa drive as he powered through multiple Longhorns defenders, though a missed extra point and failed two-point conversion on those first two touchdowns kept the lead at 12-0.
With the Longhorns down two scores early, the offense was sparked by a double-pass trick play where Carlos Gonzalez found Kadrian Hernandez for the touchdown, cutting the lead to 12-7.
The trickery livened up the Caprock sideline, but the Longhorns couldn't get much else going on offense for the rest of the half.
Meanwhile, Tascosa began to dominate.
Andrew Merrell found the endzone late in the first quarter for Tascosa and followed that up with another touchdown to end the second quarter. The Rebels scored a total of six touchdowns in the first half from five different players (Cardona, Fulton, Merrell, Tendrick Sargent, and Jaterrious McChristian).
With the win, the Rebels improve to 2-2 in distrct while Caprock falls to 0-4, eliminating the latter from playoff contention with just one game remaining.
Meanwhile, Tascosa secures sole possession (for now) of the fourth and final playoff spot in the district with Coronado and Monterey losing on Friday.
The Rebels still have matchups with Lubbock-Cooper and Coronado remaining on the schedule as they continue to fight for a postseason berth.
Copyright 2023 KFDA. All rights reserved.