G.O.A.T. of the Week: Charley Pitt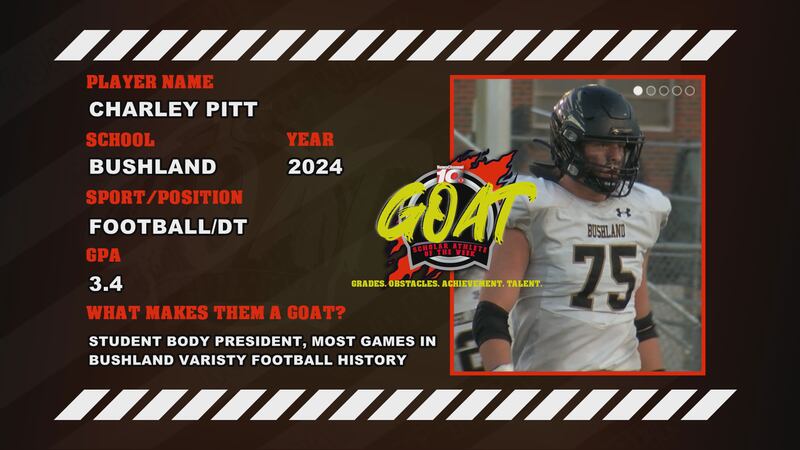 Published: Oct. 16, 2023 at 11:43 PM CDT
AMARILLO, Texas (KFDA) - Charley Pitt is one of the best defensive players in the Texas panhandle.
"I just play football. That's the base to it. I just come out here to play."
So far this season, he's helped anchor a Bushland defense that just posted their second shutout of the season.
"On my good games, I'm just having fun. It's like eighth grade all over again. Just relaxed having fun." Pitt said.
The star defensive lineman has been a staple on one of the best 3A teams in the area since his first year of high school.
"Charley's been up on the varsity since his freshman year." Bushland head coach Josh Reynolds said of Pitt. "We rarely move a freshman up to varsity, but you know we just felt like we couldn't keep him off the field... He plays like a wild man."
Pitt was named as an All-State team as a junior.
His coach has even had a chance to see first-hand the fear he can strike into opposing offenses.
"When I've jumped in there from time to time as the scout team quarterback. I try to get rid of the ball pretty quick because I know he's gonna be right there in my face. He'll put a little shot on me just to let me know he's there." Reynolds said.
Pitt is also the student body president for Bushland, serving as a leader both on and off the field for the Falcons.
"He's involved in a lot of things." Reynolds said. "That's what we want for all of our kids is to just be involved. He's representing our school and there's not anybody that I'd love to be representing our school more than Charley."
Pitt and the Falcons have two more games this season, tough battles with the defending district champions in Shallowater and the 7-1 Dalhart Wolves.
Copyright 2023 KFDA. All rights reserved.