New program aimed at women passionate about literacy, advocacy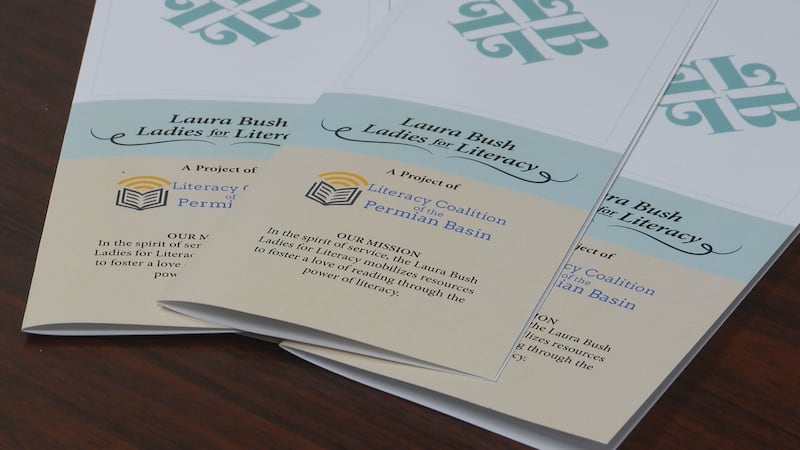 Published: Aug. 24, 2023 at 7:47 PM CDT
MIDLAND, Texas (KOSA) - A new program aimed at Permian Basin women who love to read launched Thursday.
The Literacy Coalition of the Permian Basin is combining the social nature of a book club with volunteer opportunities and advocacy meant to improve literacy rates in the Permian Basin.
After six months of planning, the Laura Bush Ladies for Literacy program was launched on Aug. 24.
The group's name honors Midland native Laura Bush, who has a passion for literacy and a background as a librarian.
It will bring together women who enjoy reading for in-person or virtual book clubs, said John Trischitti, executive director of the coalition.
"There's gonna be a social component," Trischitti said. "You know, we want to get these ladies together and have fellowship. They're going to be like minded believers in the power of literacy and the power of reading."
Women in the group will also band together to take on local literacy initiatives.
"To engage women in this community and give them an opportunity to volunteer with literacy related activities, book distributions [and] reading to kids," Trischitti said. "There's all sorts of things going on with literacy in the Permian Basin right now."
These advocates will also act as a connection between the coalition and the community.
"[These women] can be out and really identify needs that maybe we can't see as a staff."
By being avid readers and spreading the love of reading, they'll tackle an important issue in the Permian Basin.
"We know that low literacy is really a challenge in the Permian Basin and it affects so many things [like] workforce development, health literacy, it goes on and on," Trischitti said. "And so if we can get a group of individuals that are really all rowing the same direction. I mean we could have a vast impact on our community."
Right now, the program is focused on spreading the word and building their membership base. The basic annual membership fee is $95 with options for upgrades.
The Abell-Hanger Foundation has volunteered to pay for the membership of the first 50 applicants who are educators.
Copyright 2023 KOSA. All rights reserved.