Big Spring city council makes changes in its fire department
Published: Jul. 13, 2023 at 7:24 PM CDT
BIG SPRING, Texas (KOSA) -With the intense heat throughout the Permian Basin, many fire departments are working hard to put out fires.
However, in Big Spring the city council recently agreed to reduce the number of employees in its fire department.
At the last city council meeting, they were expected to terminate fire station number 2, and decrease the fire department staff by ten people.
So the number will decrease 74 to 64.
However, after a couple debates between city council members and the mayor, they were able to keep fire station number 2.
The fire department currently has 74 employees, however it's only the 36 firefighters that will be decreased to 26.
Decreasing resources scares those in the department, because of the large amount of ground they cover.
"We cover the entire county of Howard County. We send a fire truck and an ambulance to structure fires in the county. We do EMS response in the county; we send three firefighters on an ambulance to county calls almost daily. So, it's a large area that we cover," said Chanley Delk, the President of the Big Spring Professional Firefighters Association.
Delk says Howard County is around 900 square miles they cover cities like Coahoma, Forsan, Vealmoor, Sand Springs and Big Spring.
With less firefighters to respond, Delk says they could be put in a situation where they need to prioritize one emergency over the other.
While some residents have concerns over their families safety.
"My mother-in-law lives right behind HEB and this station services that. It directly effects them if I'm not around or if something happens. It could make it a longer response for first responders to get to them if they need to," said Tony Woodward, a Big Spring resident.
However, Big Spring Mayor Robert Moore says that there are reasons behind these decisions.
Before his term, the city of Big Spring accepted a SAFER grant which stands for Staffing for Adequate Fire and Emergency Response.
This grant allowed the fire department to expand from 64 to 74 employees.
Now that the city isn't receiving the funding from this grant, Mayor Moore says it will have to come out of their own pockets to maintain these positions.
"Had we kept the positions and filled them, it would've been an additional cost to the city of $860,000 a year. which we do not have" said Big Spring Mayor of Robert Moore.
In the last city council meetings, Mayor Moore presented data of Big Springs Fire Department compared to other cities in Texas that have similar demographics and emergency medical technicians.
They found that other cities departments are covering more ground with less resources.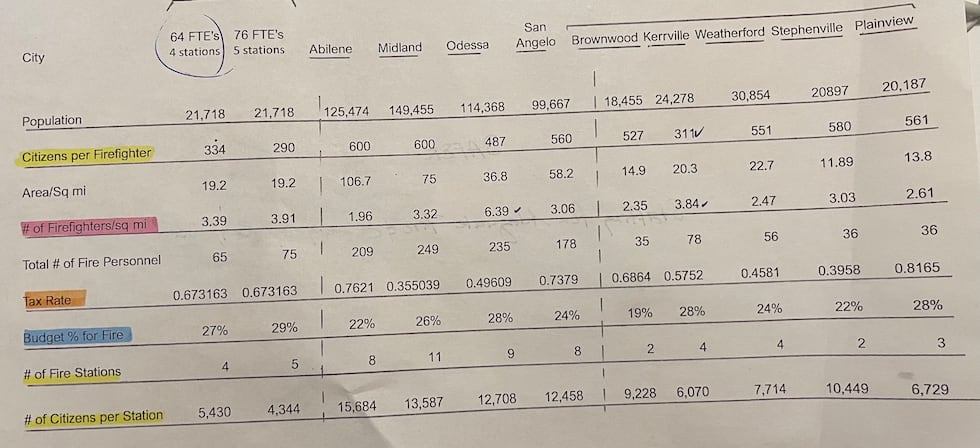 Even though the city and the fire department have their own opinions, they both said that they would love to come up with a solution that will benefit both the city and the fire department equally.
Copyright 2023 KOSA. All rights reserved.