Police: Man arrested after taking ax to woman's car with child inside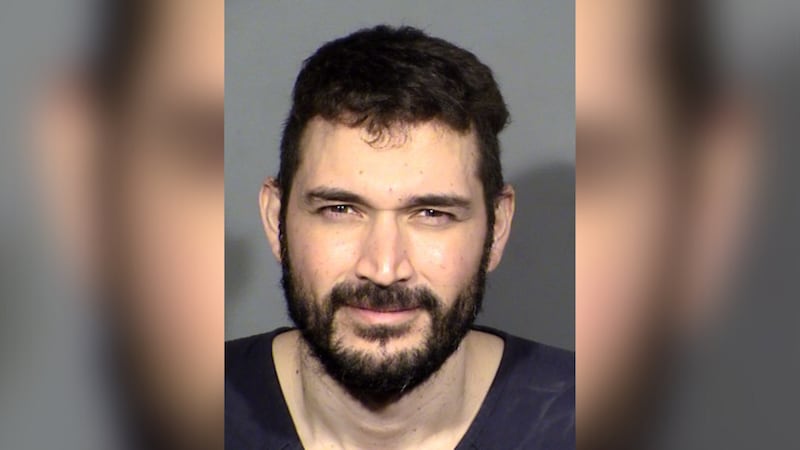 Published: Mar. 19, 2023 at 4:49 PM CDT
LAS VEGAS (KVVU/Gray News) - A man in Nevada was arrested after authorities said he took an ax to a woman's car while a child was inside of it.
Las Vegas Metropolitan Police said 33-year-old Christopher Vera was charged with burglary of a motor vehicle, child abuse, injury to a vehicle in damage of more than $5,000 and assault.
The police department said officers responded to a home in the city around 4:20 p.m. Monday for a report of a person with a knife.
Police said the caller told them the victim was watching the suspect damage her vehicle with what appeared to be an ax.
Responding officers said they found the suspect, identified as Vera, inside his home. They also saw the vehicle in question with major damage done to it.
They said Vera eventually came out of his home on his own and appeared to be unarmed.
Officers said they gave verbal commands to Vera to walk toward them, but that he ignored their commands and began pacing back and forth in front of his home.
After a couple of minutes, Vera walked backward toward the officers and was taken into custody without incident, police said.
KVVU reports Vera said he was trying to rescue a child inside the vehicle, which is why he was hitting the car with an ax.
The woman who made the call told investigators she had no relationship with Vera. She said she was in her garage when she heard him in his own home shouting and looking out of his window.
The woman said Vera's behavior caused her to pack up her car with her belongings and her child to leave the location.
According to police, the woman turned around to find Vera swinging the ax and striking at her vehicle, all while the child was still in the car.
The woman then grabbed her daughter from the car and ran back into her home, all while Vera was reportedly still attacking the car.
While she was inside her home, the woman said Vera continued hitting the car before eventually walking away from the vehicle and taking a box of clothes from it.
According to the report, the woman said she was afraid Vera would have killed them if they did not go inside her home.
Copyright 2023 KVVU via Gray Media Group, Inc. All rights reserved.