Rep. Landgraf re-appointed chair of House Committee on Environmental Regulation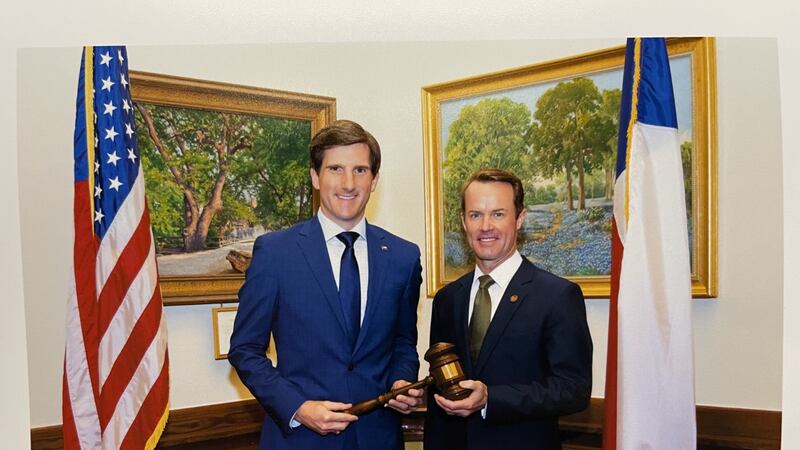 Published: Feb. 8, 2023 at 3:09 PM CST
AUSTIN Texas (KOSA) - State Representative Brooks Landgraf has been selected as the chair to lead the Texas House Committee on Environmental Regulation. Chairman Landgraf was also re-appointed to serve on four other pivotal House committees.
"I'm thankful to Speaker Phelan for these appointments and I am honored to serve as chair of the Environmental Regulation Committee, which is especially significant to West Texas," Landgraf said. "I am thankful Speaker Phelan fights for Permian Basin energy and the best interest of Texas. I'm excited to get to work and to deliver results for my fellow West Texans and our great Lone Star State this legislative session."
Speaker Dade Phelan (R-Beaumont) announced the chairmanship and committee assignments Wednesday afternoon. In addition to his chairmanship, Landgraf was appointed to serve on the Transportation Committee, Redistricting Committee, House Administration Committee, and the Select Committee on Youth Health and Safety.
The House Committee on Environmental Regulation has jurisdiction over matters pertaining to air, land, and water pollution, industrial development, and environmental matters that are regulated by the Department of State Health Services (DSHS) or the Texas Commission on Environmental Quality (TCEQ).
"This is a responsibility I do not take lightly, and I will take full advantage of the opportunity to continue ensuring Texas industry can thrive while maintaining a pristine environment for future generations of Texans," Landgraf said. "I am laser-focused on fighting for the needs of my home region of the Permian Basin and our great state. My commitment to fulfill my sacred oath and represent my fellow West Texans is unwavering. I will relentlessly work and keep burning the candle at both ends to ensure the voices of West Texans are heard loud and clear in the halls of the Texas state capitol."
Earlier this year, it was announced that the Environmental Protection Agency (EPA) planned to back off of its intent to indirectly restrict Texas oil and natural gas production through a non-attainment designation of portions of the Texas Permian Basin. The announcement came after Landgraf, as well as Speaker Phelan and Governor Greg Abbott, spent months calling for the EPA to reconsider, making special note that any dip in clean production in Texas would result in an increase in production in regions of the world that do not prioritize safety or the environment. Landgraf called the EPA's announcement "a massive win for the Permian Basin, Texas, the United States, and anywhere else where people need energy and love freedom."
Prior to Landgraf's election to the Texas House in 2014, the Odessa Texas Department of Transportation (TxDOT) District received around $50 million per year from the state for transportation projects. Since 2019 when Landgraf was appointed to the House Transportation Committee, that number has jumped to $360 million per year.
Landgraf and the other members of the Texas legislature convened at the Texas Capitol building for the 88th Texas Legislative Session on January 10th, 2023. As designated by the Texas Constitution, members of the Texas House and Texas Senate meet for a 140-day regular session beginning the second Tuesday in January every odd-numbered year to pass a balanced state budget vote on legislation.
READ NEXT: Governor Abbott responds to President Biden's State of the Union Address
Copyright 2023 KOSA. All rights reserved.