OPD re-opens 1980′s murder as cold case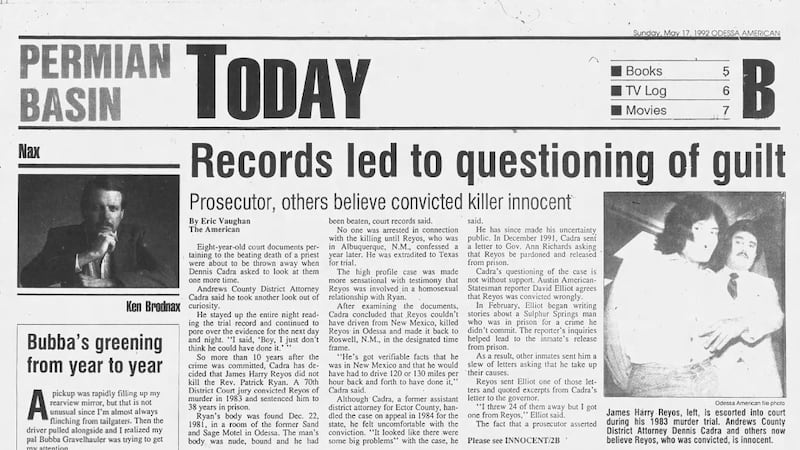 Published: Feb. 2, 2023 at 4:40 PM CST
ODESSA, Texas (KOSA) -According to the Odessa Police Department in December of 1981, a Catholic priest by the name of Father Patrick Ryan was murdered at a hotel in Odessa. The investigation eventually led to the arrest and conviction of a man named James Harry Reyos.
In 2021, Chief of Police, Mike Gerke became aware of questions regarding Reyos's. The questions were so compelling that Chief Gerke ordered the Odessa Police Department Special Operations Bureau to conduct a review of the case. During the review, Investigators developed serious questions as to Reyos's guilt.
Reyos's conviction was based almost solely on a confession that he provided in New Mexico while he was intoxicated.
He later recanted that confession.
The investigation did not lead to any other corroborative evidence that substantiated the confession
The new review of the case revealed evidence showing that Reyos could not have been present at the crime scene.
Fingerprint cards within the original case file revealed fingerprints at the crime scene that did not belong to Reyos. This, along with Reyos's known whereabouts during the murder led the Investigators to believe that another party (or parties) committed this murder.
Based on the facts found during this review, OPD presented its findings to the Ector County District Attorney's Office. The ECDA has completed a thorough investigation as well and has come to much the same results as the Odessa Police Department.
Both agencies agree that there is compelling doubt to James Harry Reyos's guilt in this case.
The murder of Father Patrick Ryan has been reopened as a Cold Case Investigation and is assigned to the Cold Case Detective.
CBS7 will continue to update this story as we know more.
Copyright 2023 KOSA. All rights reserved.