CBS7 FIRST ALERT WEATHER DAY TUESDAY, 1/31/23
Significant icing of area roads...elevated surfaces...trees and power lines likely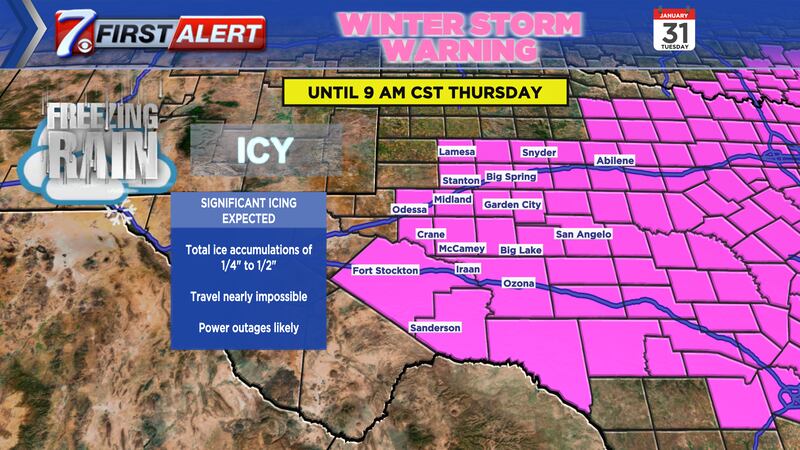 Published: Jan. 30, 2023 at 10:08 PM CST
|
Updated: Jan. 31, 2023 at 2:42 PM CST
(KOSA) - 2:00 PM UPDATE | Tuesday is a CBS7 FIRST ALERT WEATHER DAY for more freezing drizzle/freezing rain...snow and bitterly cold temperatures near freezing and wind chills into the single digits and the teens. Areas of freezing drizzle and freezing rain will develop early this evening and will coat elevated surfaces such as bridges...overpasses and windshields with up to 1/10″ to 1/2″ of ice The main threat area for ice accumulations will be across the Permian Basin...southeast New Mexico and the Trans-Pecos. Significant icing will make travel nearly impossible and cause problems with broken tree limbs and some power outages.
As temperatures stay near or below freezing through Thursday...more areas of freezing drizzle and freezing rain are expected to develop with more ice accumulations expected on Thursday morning. This will cause additional travel problems on area roads...bridges and overpasses for the middle of the week.
Stay with CBS7 FIRST ALERT for the latest concerning this winter weather situation on CBS7.com and on Facebook and be sure to get the CBS7 FIRST ALERT Weather App to stay in the know on the go!
Copyright 2022 KOSA. All rights reserved.